Air Intake Header Wedge
Added 2006 May 06
A number of people have been asking whether we could supply the Wedge for the air intake header shown in Tom's air intake page - Tom's Air Intake System
As a result we have designed a wedge that can be machined at reasonable cost - it is still not a simple machining job.
This wedge provides a 20° change in the angle of the throttle body so that, on a 2WD Vanagon you can use a stock Subaru air intake tube and it will fit below the engine cover lip. It does require a small section of the fire wall be cut out to make room. It fits nicely and provides the full air flow that Subaru intended.
Here is what the wedge kit looks like: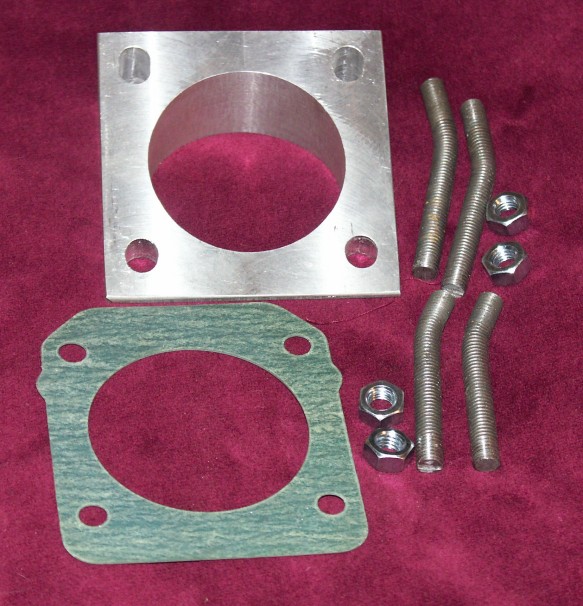 The kit includes the wedge, one new Subaru air intake gasket, four bent studs and the nuts.
Since the holes in the air intake header are tapped and the bolts need to pass through the throttle body holes bent studs have to be fabricated to facilitate assembly and bolt up. The installation looks like this when you have the wedge installed and are ready to install the throttle body. The slotted holes are the critical part of this design - allowing room for the bent studs but at the same time holding the wedge in it correct position.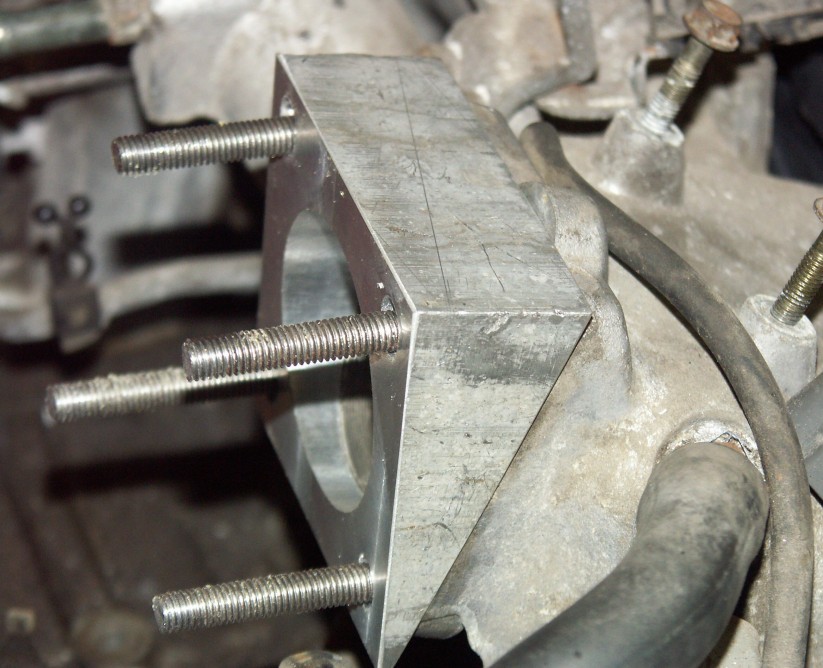 This arrangement may not be of interest to everyone but it does allow one to use the stock Subaru intake tube without alteration as can be seen in Tom's Air Intake System . These wedges are in stock and can be shipped immediately.
Price:

USA Friends:

| | |
| --- | --- |
| | Air Intake Wedge Kit $95.00 USD plus shipping |

Canadian Friends:

| | |
| --- | --- |
| | Air Intake Wedge Kit $104.00 CAD plus shipping and tax |

Contact: e-mail address

if you are interested

If you pay via PayPal I will have to add a service fee as I have not built that into the price.

NOTE: Use these ideas at you own risk - no warranty or guarantee implied or included. Tom