The reversed coolant header we offer is intended to be used with the dedicated thermostat housing ( Thermostat housing ) and with the coolant pressure tank being mounted on the passenger side of the engine bay. However, if you would like to use a different cooling system configuration the header can be supplied with different barb fittings.
Note: Due to the varying quality of the headers I receive back, I have decided to have all headers commercially glass bead cleaned - this adds a bit to the price but makes sure everyone gets a nice header that looks like new.
Here is a picture of the shiny (nearly new) header: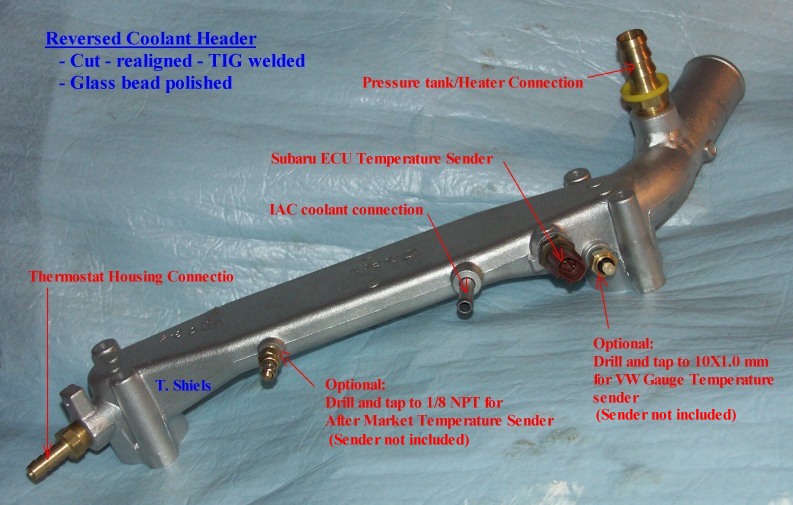 The key features, of this arrangement, are:
1) The ECU and gauge temperature senders stay in the Subaru stock position, where they both see the average of the coolant temperature from the two heads - as Subaru had originally intended.
2) The brass heater connection is nicely located to feed directly into the top connection of the pressure tank. Ensuring that any air in the system is swept into the tank for automatic bleeding (burping).
3) Optional provision for after market temperature sender - 1/8 NPT (sender not included).
4) Gauge sender location can be either left to take the Subaru stock sender or as an option can be tapped to take the VW sender used in the 1.9 L WBS engines - so the vanagon gauge will read the same as it did originally (sender not included).
5) The brass barbed fitting for the thermostat housing fits inside 1/2 in tubing
Here is what it looks like when it is installed and the wiring harness has been modified to match the new location of the temperature senders (sorry I do not have a picture of the nice clean header installed yet):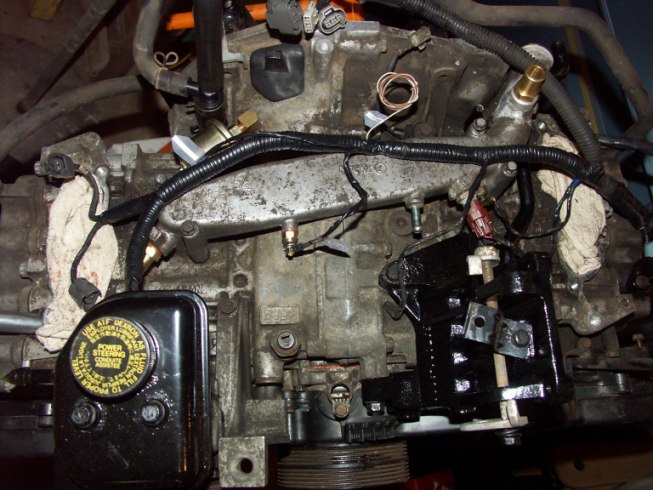 Note: One of the features of our wiring harness conversion service is that we can add an additional connector and wiring in the harness to provide up to three wires from the engine, to the engine bay Black Box, to accommodate after market gauges. The after market oil pressure gauge and coolant temperature gauge are wired this way in the picture above. The coiled Wh/Rd wire is the spare/un-used extra wire.