You can use either the original vanagon CAT or upgrade to the 2 inch oval cat shown first picture above or the 2 inch OBDII CAT shown above. The 6 inch muffler is available in either SS or aluminized steel. As shown above the tail pipe is available with either a single 90° bend or a double bend to clear the rear valence better.
This SS exhaust header will fit both KEP and SC engine mount arrangements but is NOT designed for a Syncro.
- On a KEP engine support you will need some sort of muffler support – similar to the product described here - Muffler Support
Here is what it looks like: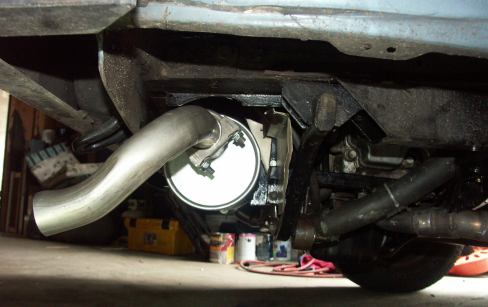 Lots of room with the KEP type engine mount. This is on my 86 8 passenger vanagon. I use the stock vanagon cross member to provide damper support for the engine and to hold the heat shield out of the way.
Here is a rear view: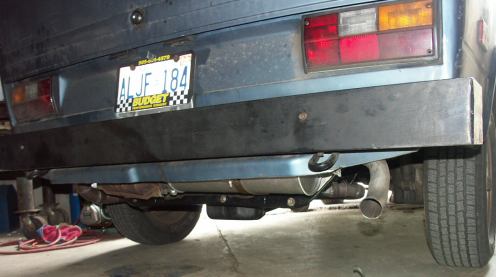 Again my 86 with slightly beefed up rear bumper - discourages people from dinging me in the parking lots.
- ON a Small Car support only one of the muffler brackets on the engine support can be used – from our experience this is more than adequate. See pictures below.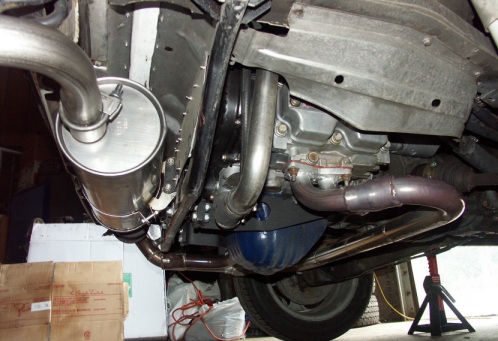 Courtesy of Ken Madsen - beautiful conversion job. Note that the SS header is already turning the typical bronze colour, in the areas where it gets very hot.
Here is the system mounted on an older SC mount - courtesy of Tim Freeman: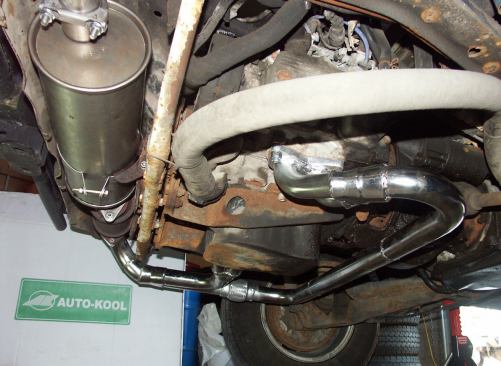 After the picture was taken the SS band on the muffler was rotated to be up behind the cross member.
This is what Ken's looks like from the rear - unfortunately, I do not have a rear view picture of Tim's installation - his fits a bit higher into the heat shield.